How our Fraxel and Clear + Brilliant laser treatments can reverse sun damage and turn back the clock on ageing skin.
Hyperpigmentation.
Melasma.
Sunspots.
Deep wrinkles.
Our faces have taken quite a bashing this summer. Days spent island hopping around Greece or cove-seeking along the Dalmatian Coast and trying to shield our skin from the glaring sun that bounces off those white-washed walls and glittering oceans, has left us all looking a little… sun cracked. Our skin right now may look a little like drought-ridden land, split open, gasping for moisture. Not great.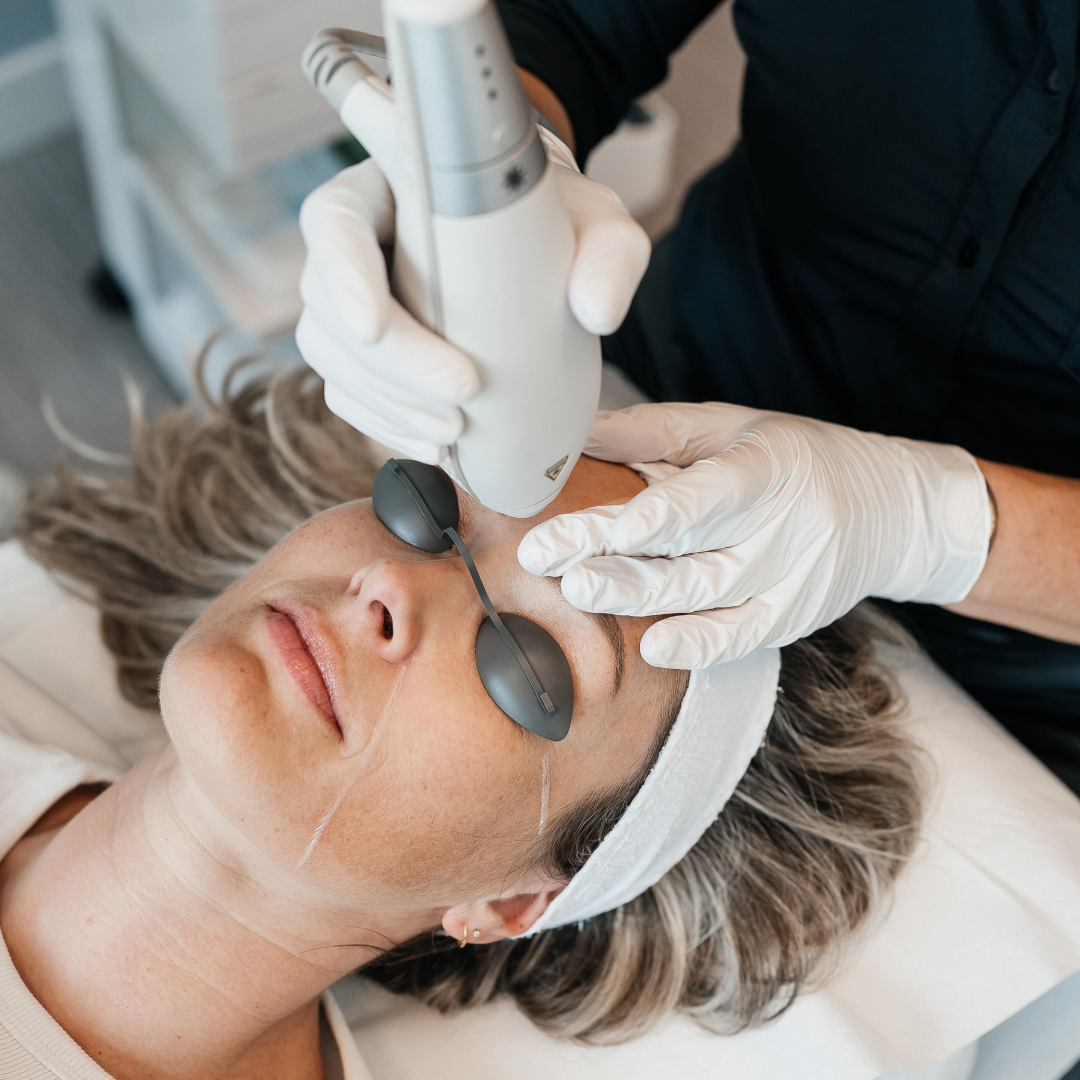 Thankfully, just like when the floods come to soak the lands, wash away the dust, and bring about that flush of rejuvenation, we too can set about quenching the thirst of our skin. And at KAZEM AESTHETICA, we offer a range of treatments that can return your visage to its dewy, most resplendent, most hydrated best. 
When you visit our clinic for your initial consultation, a simple course of HydraFacials – deeply replenishing, deeply hydrating – may be just the ticket to restore and renew.
But for some, you may need to look at stronger medicine to tackle deeper skin problems such as dark areas and furrowed lines. 
In such circumstances, leading surgeon Dr. Farid Kazem may propose our laser treatments, Fraxel and/or Clear + Brilliant.
Both require only topical cream to numb the area, take between 30-45 minutes per session, and have a downtime of 2-5 days where the skin will be visibly red as it regenerates and heals.
Results can be seen within weeks and over the course of 4-6 sessions, the skin is visibly more radiant, has increased elasticity, and leaves you looking more youthful and rested. 
Clear + Brilliant is typically a repeated treatment for ongoing maintenance that is used to even out skin tone, reduce blemishes, and make pores less visible.
Due to a deeper penetrating laser, Fraxel leans more to application to skin that has significant sun damage.
As ever, your treatment plan at KAZEM AESTHETICA will be bespoke to your needs and the course of action will be outlined to get results for your skin, specifically. Dr. Kazem and his team of extensively trained and experienced aesthetic nurses will design a combination treatment to suit you. 
Perhaps you have been particularly sun safe this summer, but are still noticing signs of ageing? Maybe you have acne or surgical scars you wish to finally address? Then again our laser offerings can help.
A combination treatment plan or a course of sessions can:
Significantly lessen fine lines around the eyes and deeper wrinkles across the forehead and around the mouth;
Notably reduce the appearance of scars and acne depressions and discolorations; 
Demonstrably tighten weakening skin by stimulating the growth of new and healthy skin cells and accelerating the build-up of collagen; 
Radically replace the look of dull, lacklustre skin with radiance and vitality. 
Not only is our team highly knowledgeable – they receive regular intense training and are continuously updated with technological and clinical improvements – but Dr. Kazem himself is the key opinion leader of Solta Medical, the developer of laser equipment.
Naturally, this gives us a clear advantage in our data, familiarity, and experience with laser technology, which is always of increased reassurance to our clients. 
Have further questions on how we can help address your skin concerns?
Interested in hearing more about our laser technology?
Contact the KAZEM AESTHETICA team today to schedule your consultation.